What we want to do
Twinky Doo's Magic World is a feature film we have been working on for twelve years.
At first it was a juvenile project full of ideas and energy. Atypical, but vital: a crime movie that steers towards visionary horror, a monstrous creature, drama and a pinch of action. All firmly rooted in the same suburban Italy so cherished by our own auteur cinema.
During all these years the project has evolved with us, enriched by our own personal growth, and it has become the movie of a lifetime.
Still "hard to label", though, as we have been told by all the producers we pitched it to. But we don't want to betray its nature and now we are but one step away from making it become reality.
What we have done
We decided to roll up our sleeves and become our own producers. We founded a production company starting working on commission, while in our spare time we kept working on this project.
In 2016 we made a proof of concept short movie out of it, thanks to an enthusiastic crowdfunding campaign right here, on Eppela. In the last few years the short has won a number of prizes in festivals all around the world, giving us confirmation that this idea is palatable to a wider audience than the sole Italian viewers.

We were chosen as the winners of two public competitions notices: one from the
Toscana Film Commission
(the "Mecenate" notice) and one from the
Ministero della Cultura
(the "Selettivi" notice).
Thanks to these funds we got closer to making our dream finally happen, but we still need a little help to complete our budget.
The Story
Selva, Mara and Pluto are three criminals who grew up together in the streets of Shangai, which is the actual name of one of the most peripheral suburban areas of Livorno, the city we live in. They attempted a robbery at Twinky Doo's Magic World, a theme park for families, but everything has gone south because of Leo, the latest addition to the gang.
The four take shelter inside a warehouse, dragging as a hostage Roberto - an employee of the park - with them. Now the place is surrounded by the police.
However the true threat is not outside.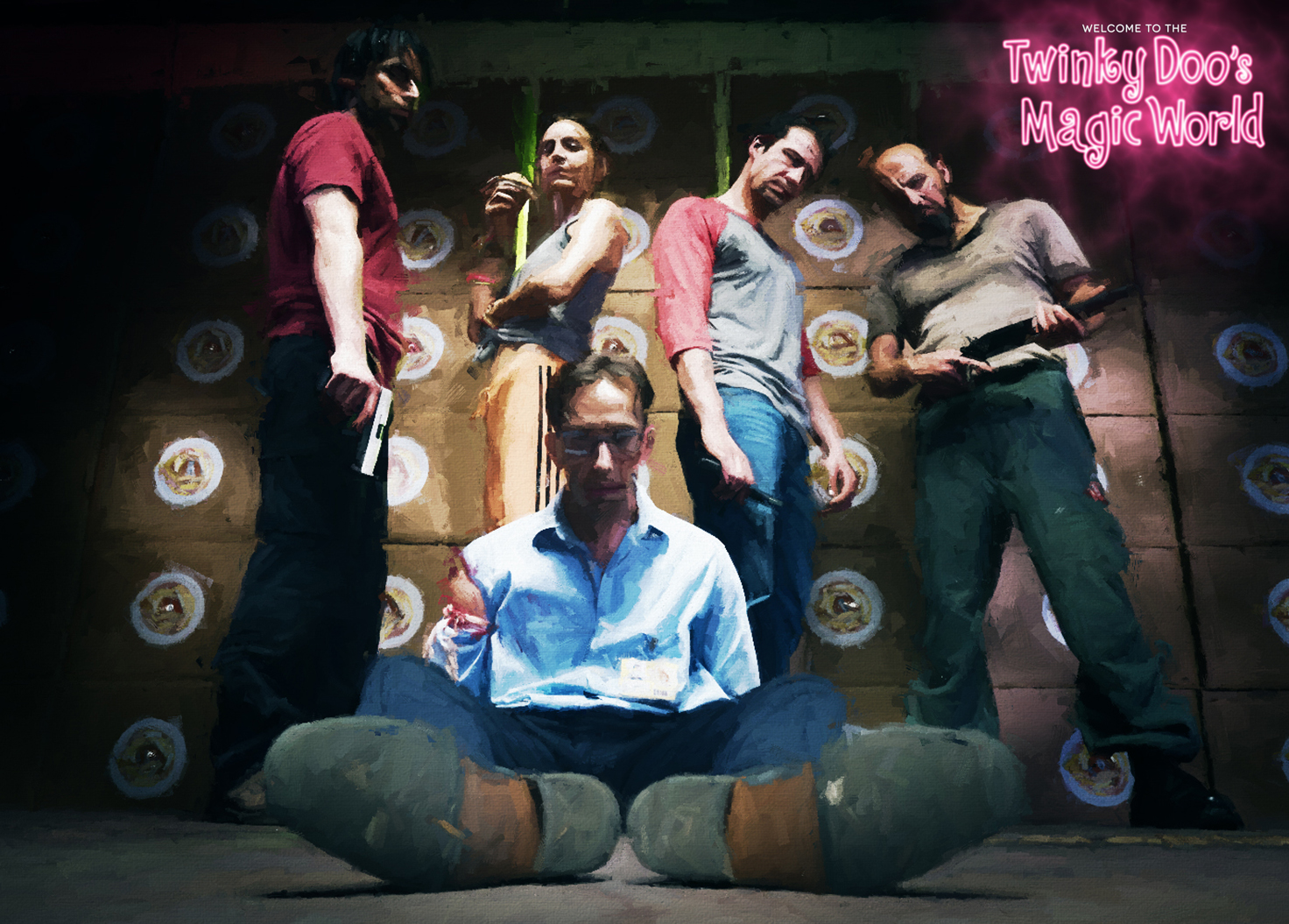 Everywhere inside the warehouse the big face of Twinky Doo, the squirrel mascot of the park and golden mirage from their youth, keeps staring at them. Children of the '80s, wounded cubs back then and fierce beasts today, they are trapped in with no way out.
Selva has a plan to get them out of that sugary trap. Twinky, however, won't just stay there watching.
Between a lost childhood and broken dreams, demons from the past resurface from the darkness of the warehouse in the shape of terrifying hallucinations.
And of a horrifying creature ready to bury its fangs in their childhood fears.
Playing with the latest '80s revival trend, Twinky Doo's Magic World tells of the other side of the coin in Italy, with a story of losers in search of redemption. A tale whose head stands between King, Carpenter and the new wave of international horror, but whose roots are firmly planted in the Italian suburbs.
Visual Approach
As previously stated, we have been working on this project for more than a decade, therefore its visual aspect will be curated down to the slightest detail.
Our idea is to draw inspiration from the genre movies we grew up with, starting with the masterpieces of craftsmanship of the Italian cinema of old.
We mean to combine the most modern shooting techniques with old-school solutions. To the modern Visual FX we want to couple classic Special Effects such as miniatures, puppets and overlays, in homage to the masters of classic Italian Horror (especially Mario Bava and Lucio Fulci). A medley of old and new, finalized to guarantee the best production value possible.
The '80s are at the heart of the story and are meant to influence its visual allure. The photography will evolve along with the narrative. Modern aspherical lenses at the beginning of the movie will give way, during the most horrific parts, to vintage anamorphic lenses, which will grant a bigger-than-life look to the picture and will increase the feeling of alienation of the characters.
The Budget
Let us be transparent here: the overall budget of the movie will be a little over 200.000 €.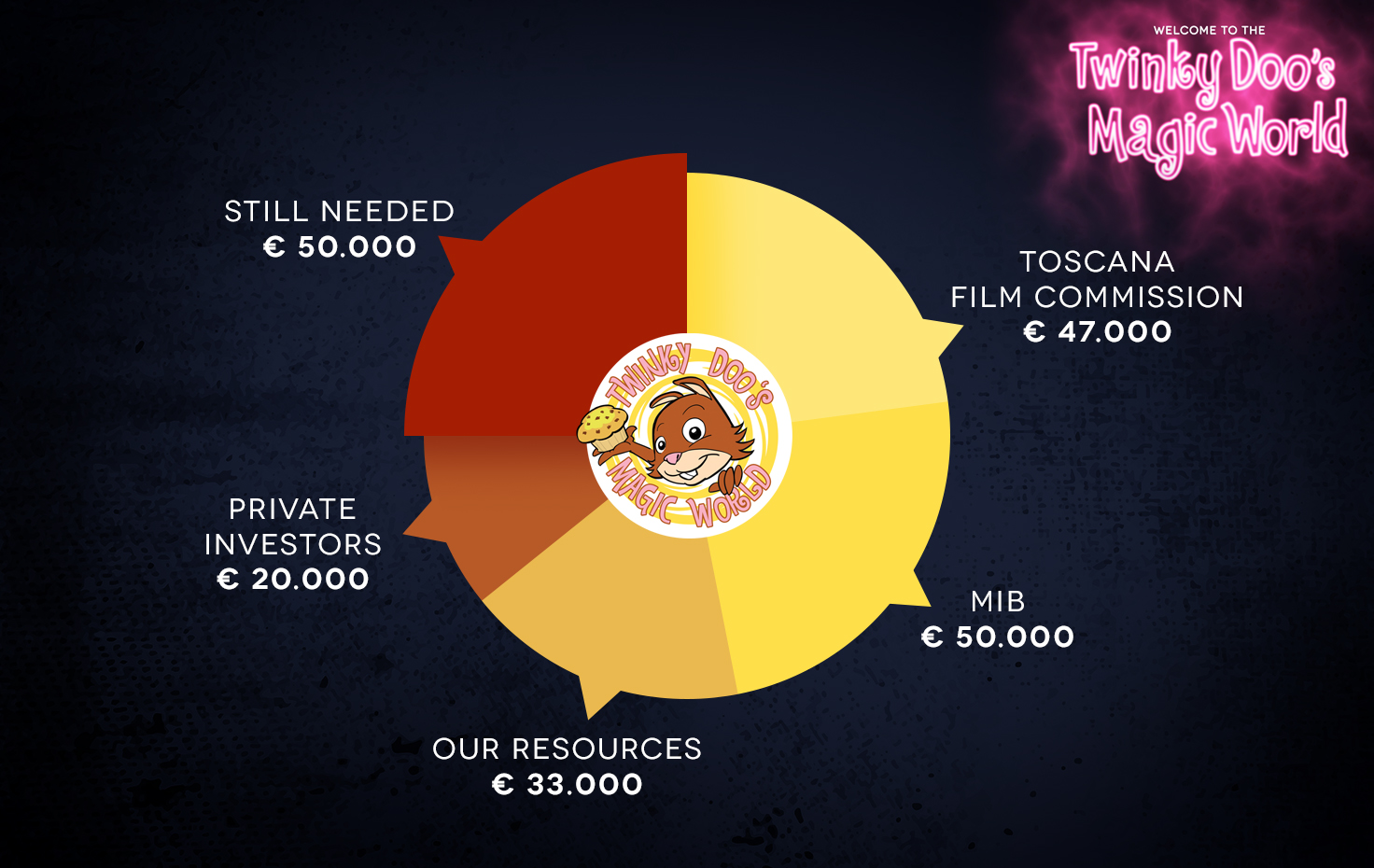 This means that in order to make the movie of our dreams we still need 50.000 €.
Why is this campaign's basic goal at 20.000 €, then? Because that would be the bare minimum that would put us in the realistic condition to make the movie, although it would also mean making several cuts and simplifying the project in a number of ways. However the movie would be made, and it would be great.
Obviously the higher we go, the closer to the movie we want to make we can get, with no compromises. And that, well, that would be legendary!
Why supporting us?
Because we know how to work well with very little - Even though what we need may seem a lot, we are actually in what is called ultra-low-budget. Materials, sets, personnel, working times, fiscal expenses, not to mention the COVID-19 protocols... the costs of a movie production can reach mind-boggling amounts. However, thanks to our well-oiled craftsmanship and thorough organization we will be able to make the most out of any resources you may generously give us.
Because every penny will be spent on the enhancement of the movie's visuals - Despite having won two competition notices, we still need some extra cash that would allow us to take our production on par with its peers in the genre on the international market. Scenographies, props, special effects: our purpose is to capture directly on camera the most gorgeous images possible. Every contribution you will be willing to make will push us one step closer to making this vision of ours a reality.
To encourage the Italian genre cinema - Making genre movies in Italy is extremely difficult. If our film is going to succeed, hopefully it will convince other producers to invest in similar ideas. By financing this project not only you will have contributed in the creation of something unique, but you will also have helped promote Italian genre cinema as a whole.
To take part in something cool - The movie will be sent to the most prestigious cinema Festivals, for specialists and not. We can count on a long tradition of prizes won with our previous works and we don't want it to stop: we mean to take on the world with the Twinky Doo-mania !
For the pride of having financed something beautiful, different and independent - Yes, obviously you would also be contributing to a movie which will entertain you and many others. You will be smiling with pride - or screaming in terror - while having a seat to watch the finished movie.
Rewards
In order to thank you for your effort we thought of a number of rewards that stand in between our desire to show you our eternal gratitude and the need to save most of the funds for the film.

The rewards are listed on the right side of this page and are directly linked to your contribution. The pictures are representative of the ideas we are proposing, but the final designs may differ.
Digital Assets: Concept and Production Art
The movie will be studded with artistic materials which are integral to the story: we will be producing a large number of pieces of artwork and illustrations that we are willing to share with you as high resolution digital assets.
Every artwork will be realized by a group of very talented artists, led by the penciler of international fame Arjuna Susini. You can visit his website HERE.
Digital Copy
Once the movie will be completed, we will have to ask you for a little bit of patience before we can share it with you all: we need to keep the movie unpublished while we submit it to the most prestigious Festivals and distribution companies. This small hiatus is necessary not to waste the opportunity to give the film a proper worldwide distribution. We will keep you updated on any progress at all times.
Blu-ray and T-shirt
Obviously we couldn't miss out on two of the most requested rewards when crowdfunding a movie.
The T-shirt will be printed in limited edition, exclusively for this campaign. The Blu-ray will be sent to you as soon as we have a distribution accord for the movie. We ask you to be patient about that, but we will keep you updated at all times.
Rewards for Italian-speakers ONLY
There are two perks that are not available to foreign backers purely for language-related reasons.
We are listing them here because we want to be 100% transparent.
Courses and Education - ITALIAN BACKERS ONLY
A big portion of our lives, both on and off-line, is dedicated to teaching all aspects of moviemaking.
Therefore we thought it would be cool to make ourselves available with three special courses on those subjects we usually teach. You can choose one of the following: Screenwriting, Directing or Editing.
Each of the courses will last 16 hours and will be held in streaming starting in Autumn/Winter 2021. All classes will be organized in virtual classrooms with limited capacity, so as to guarantee the interaction with all the participants.
ALL COURSES WILL BE HELD IN ITALIAN and therefore ARE EXCLUSIVE TO ITALIAN-SPEAKING BACKERS
Assistant Editor - ITALIAN BACKERS ONLY
Have you ever wished to watch a movie being made? While the shooting is the most flashy moment in filmmaking, it is in the editing that the movie comes alive and the magic is born.
Therefore we thought of offering you an online participation to an editing session for a scene in the movie, intervening in real time to ask questions and - why not - to suggest your take, which would make the sequence unique.
This way you will also earn the title of Assistant Editor in the ending titles.
ALL SESSIONS WILL BE IN ITALIAN and therefore ARE EXCLUSIVE TO ITALIAN-SPEAKING BACKERS
NFT - Unique rewards
For the first time in Italy - and among the first worldwide - we will be releasing the movie in digital NFT format.
The Non-Fungible Tokens are a technology based on blockchain which is a safe way to make digital copies unique and certified. Each file will be associated with one single Token, a digital certificate - not counterfeitable - that states its number and its owner.
This way the files we will send you, apart from a symbolic value, will also retain an economic one: Recently the NFT market has recorded unprecedented numbers, like the record sum of 65 million dollars for a piece by the digital artist Beeple.
Beside these sensations, we believe in the usefulness of this technology as a good way of giving value to the work of digital artists.
We will be releasing only 50 certified digital copies of the movie and 150 copies of Arjuna Susini's original artwork.
You can be the sole owner of a unique and certified copy which, in time, may increase in value and, if you wish, you could sell and become disgustingly rich. Possibly.
PLEASE NOTE: the NFT movie - like the other digital copies - will be delivered once we have an official distribution accord.
Cast
We want to make this film with the same, marvellous cast who helped us with the short.
These are all fine actors of proven experience we have known for years - with some we literally grew up together - and around whom we originally shaped the characters in the writing phase.
Selva - Guglielmo Favilla - Graduated at Centro Sperimentale di Cinematografia in Rome, he starred in several productions for both Cinema and TV (All the Money in the World, I Can Quit Whenever I Want, I Delitti del Barlume, The Name of the Rose)
Leo - Maurizio Tesei - Graduated at Centro Sperimentale di Cinematografia, he acted in movies that were awarded and distributed all around the world (They Call me Jeeg, Il Contagio, 2047: Sights of Death)
Pluto - Alex Lucchesi - Protagonist of several international genre movies (Eaters, The Iced Hunter, Alienween) and TV productions (Aldo Moro, Floor 17, Non c'è più Niente da Fare)
Mara - Fiorenza Pieri - Graduated at Teatro Stabile in Genoa, she appeared in several cinema productions (The Early Bird Catches the Worm, Beyond Love) and TV shows (Non Mentire, Don Matteo, Tutto può Succedere)
Roberto - Luca Di Giovanni - Actor in several cinema productions (Diabolik, Il demolitore di camper, The start up), popular TV series (In arte Nino), Webseries and TV shows (The show must go off, Stai Serena)
Who are we?
We are Francesca Detti and Alessandro Izzo, holders of i Licaoni Digital Studio.
We were in our late teens when we started using Cinema to tell stories, then we never stopped. We made full-length movies, medium-lenght movies, shorts, webseries and even a couple of wedding videos. We held a series of cinema lessons, the Cinema Show, to share our know-how with young, aspiring filmmakers.
You can find most of our productions on our YouTube channel, for which in 2012 we won the prize Google Nextup as one of the best european channels.
Our ELBA – L'eredità di Napoleone was prized as one of the best 10 Webseries in the world.
We can boast the primacy of having put online the first movie in Italian history, in 2005: Kiss me Lorena.
Our specialty is genre movies. We sank our teeth into comedy, fantasy, sci-fi and we love horror: Last Blood, our no-budget short, in 2003 won prizes in festivals all around the world.
We are only saying this to reassure you that we are going to invest all the money to make the best movie possible, with the same care and craftsmanship that we always put in all our projects.
But who are these Licaoni?
Our group was born in Livorno in 1999 making homemade cinema with the limited means we had. In time we grew and became professionals.
Many from the original group of Licaoni scattered all around the world, becoming esteemed professionals. When we have a crazy project in mind, we call the pack back in and we rediscover the pleasure of working together, always with a smile on our face. For us, this job is a passion, which becomes a privilege when you can do it with the friends of a lifetime.
Project created by
i Licaoni Digital Studio
We are a digital studio born from various experiences in independent cinema.
We've produced feature lenght movies, short movies, webseries and also a couple of wedding videos! You can find pretty much everything on our YouTube Channel.