What is it about?
(For info contact us: nanofaltromare@gmail.com)

Not a biographical film, but a portrait-film that aims to bring the viewer into the visual, visionary and human universe of Antonio Possenti (1933-2016). The painting of Possenti and the documentary language meet in a middle ground where animated creatures intertwine with fragments of interviews, old poetic notes are blended with critical contributions, nocturnal flights on the roofs of Lucca alternate with images of the painter's working in his studio. Time is suspended, presence and absence are merged, between memories and dreams there is slight difference, childhood and old age coexist in the hand dancing on the canvas, creating worlds from nothing, the sun alternates at night in the empty study, a mad signalator brings ships to shipwreck on islands that are turtle backs, life and death stay up late dancing an improbable waltz in the Piazza dell'Anfiteatro, populated by extraordinary figures that dissolve at dawn.

Conceived in 2015 with the involvement of the curious passion of the master, the project wants to pay homage to its memory in a free, creative and professional way, thanks also to the moving willingness of the sons Giovanni and Maria.
The animations of the works want to make the sense of an "animated painting" thanks to the step one technique (realized by Serena Tonelli) to return world in motion where the images have their own weight, moving on the surface with grace and a little of fatigue, hanging in the balance between a liberation from their stillness and the claim of their being art drawing. The animated sequences freely develop the themes of the interviews and notes, to mark the documentary like a red thread, intertwining with inlaid drawings to the night streets of Lucca, in a dialogue between the city and the pictorial universe of Possenti.The documentary will attempt to directly translate into a film the approach to the art and life of the master from Lucca, restoring the power, the mystery and the magic of pictorial creation. It is also an almost due tribute, from the author to a teacher and a friend, but also from Lucca to his indisputable painter-symbol, and fromTuscany to one of its most representative exponents of the figurative art of the late twentieth century.
Duration: 52'
Format: HD 16:9
Year: 2018
Direction: Lorenzo Garzella
Co-production: Acquario della Memoria; Lucca Film Festival and Europa Cinema
How funds will be used
Focusing on the animation of the paintings, the originality of the project lies in the cross-media synergy between documentary and use of animations and audiovisual materials for future exhibitions, installations, events, volumes and workshops for schools.
All production stages of the documentary require the involvement of specific professionalisms, from the delicate as important construction of the animations with the step one technique involving the illustrator Serena Tonelli, up to the audio mix entrusted to the wise ears of Mirco Mencacci, and a myriad of people among filmmakers, producers, technicians, scholars, archivists, graphic designers, musicians, sound engineers, editors and art critics.
Your contribution will help to make possible the realization of this video-portrait that will intertwine unpublished footage of the master at work in his studio filmed by the author (2015-2016) and a whole work session, with the realization of a nautical paper, old autographs notes of the artist animated and read by a narrating voice, night shots of the city, both from below and "flying" view on the historical center, time-lapse and details of Piazza dell'Anfiteatro and the interior of the painter's studio, interviews to art critics and academics (Vittorio Sgarbi, Maria Cristina Cabani, Luigi Ficacci, Nicola Micieli) and friends of him (Mario Rocchi, Giovanni Raffaelli), super 8 archive clips with views of Livorno ('30s-'40s) and Lucca ('40s-'70s), family photographs and Possenti home movies.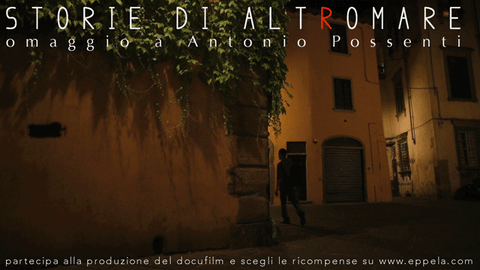 But not just that. The material collected and processed with your contribution will merge into the DVD version of the documentary, in a limited edition box set and in an illustrated volume with new biographical material.
Who's behind the project?
NANOF is an indipendent production company founded by filmmakers Lorenzo Garzella and Filippo Macelloni in 2001 in Rome. With a strong creative production approach, NANOF deals with cinema, documentaries, cross-media projects, short films, installations, television. NANOF has also realized several cinema and and television projects distributed in Italy and abroad: the documentary "Bambini nel tempo" (Rai Teche/Rai Cinema 2015), "Crazy Dreamers" TV series (work in progress, conceived with Rai Com), the mockumentary "Il Mundial dimenticato" (Verdeoro/Rai Cinema, 2011-2012), the documentaries "L'uomo che sparava dritto" (Jean Vigo/Rai Uno, 2013), "Rimet" (Verdeoro/Rai 2011), "La mia squadra" (Rai Uno, 2010), "Silvio Forever" (Jean Vigo/LuckyRed/La7, 2009), "Occhi su Roma" (Rai Cinema, 2008) and many Home Video series for the main Italian publishing groups (RCS, Mediaset RTI, Rai). With offices in Rome and Pisa, NANOF develops creative and cross-media documentary projects on topics related to contemporary society, culture, sport, art and history.
Lorenzo Garzella (Pisa, 1972). Director, cultural professional. Graduated in History and Critique of Cinema in Pisa. Specialized in social video-documentation (I Cammelli, Torino, 1997) and digital editing (IAL, Pordenone, 1999). He has made short films and documentaries of historical, sporting and social subjects (Rai, Mediaset, Sky, Stream, Tele +) obtaining awards in Italy and abroad. His award-winning feature film "IL MUNDIAL DIMENTICATO" (90', 2011, co-production Italy-Argentina) was presented at the 68th Venice Film Festival and distributed in cinemas, television networks and festivals in many countries.
Since 2014 he curates the project MemorySharing with the cultural association Acquario della Memoria. A cross-media participated process aimed at the collection-sharing-narration of collective memory: documentaries, interactive installations, multimedia exhibitions, storytelling, guided tours with augmented reality, app for iOS and Android, VR tours, participated web platforms, traveling films (cine-bike, cine-bus and cine-boat). Among the cross-media projects: Pisa and the War / MemorySharing (2014/2016); Firenze in Guerra (2014/2015); Arno66-TimeTravel on the Florence flood of 1966 (2016/2017); Oltre le Generazioni, as part of the Generations Festival (2016/2017).
Lucca Film Festival and Europa Cinema is an annual event that celebrates and promotes cinematographic culture. Through screenings, exhibitions, conferences and performances, the Festival has been able to captivate an ever-increasing audience with a program that ranges from auteur to mainstream films. Through the years, Lucca Film Festival and Europa Cinema has carved out a niche for itself, standing apart from the many other festivals thanks to its bold yet carefully studied programming. Over the years, great names of international filmmakers and well-known celebrities have attended Lucca Film Festival and Europa Cinema as invited guests; David Lynch, Oliver Stone, George Romero, William Friedkin, David Cronenberg, Jeremy Irons, Willem Dafoe, Terry Gilliam, Paolo Sorrentino, Marco Bellocchio, Alfonso Cuaron, John Boorman, Peter Greenaway, Abel Ferrara, Kennet Anger and Jonas Mekas just to name a few. At the same time, the Festival has offered retrospectives of "old" glories while unearthing new talents. To top it all off, breathtaking Lucca and beautiful Viareggio serve as a stunning backdrop to an event that has now firmly established itself, becoming a highly anticipated and not-to-be-missed appointment in Italy and in Europe: the Lucca Film Festival and Europa Cinema.
Project created by
NANOF produzioni audiovisive
NANOF Audiovisual Production is an independent production company founded by Lorenzo Garzella and Filippo Macelloni in 2001 in Rome. NANOF deals with cinema, cross-media projects, short films, installations, television. NANOF has realized film and TV projects distributed in Italy and abroad and develops projects of creative documentary on themes of contemporary society, culture, sport, art and history.